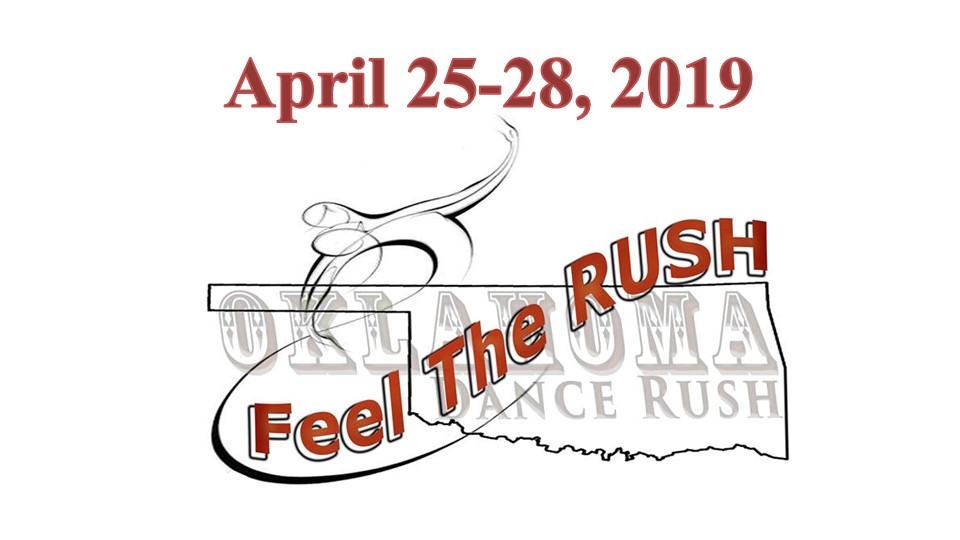 "I felt 'The Rush' the moment I placed my foot on the dance Floor!" "The crowd cheering, the beautiful backdrop, the great music, the supportive staff, and the friendly atmosphere are all parts of what makes up The Oklahoma Dance Rush!"
The Oklahoma Dance Rush is held in April so that gives ample time to make changes after Worlds but early enough to get your new choreo on the floor and then still be able to make changes before the end of the year!  The Dance Rush is a UCWDC qualifying event and it boasts of competitors in all levels and ages of Pro-am, Couples, Showcase, Spotlight, Line Dance, Teams, Crown, Masters and more.  If you are one of those multi-faceted dancers who currently competes or would like to start competing in the ballroom world, then this is also your event.  Dance Rush also offers a 2-day ballroom competition in Rhythm, Latin, Standard and Smooth.   Not only is there a competition for almost everyone, but also there are a variety of workshops not only for competitors but for all dance lovers throughout the weekend.  This event also offers jack and jills, social dancing and two outstanding shows.  The Dance Rush awards over $20,000.00 in Top Teacher awards for UCWDC and Ballroom as well as a Pro Incentive contract second to none!   As a dance event for dancers organized by dancers the main priority is to provide a well-run event with something for all levels of dancers.
Make plans now to join us next year and FEEL THE RUSH!!!!!
April 16-19, 2020