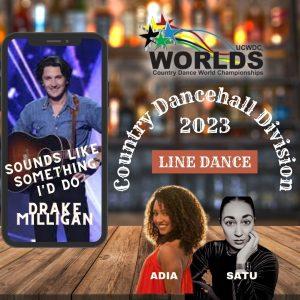 Counts: 64
Walls: 4
Level: Intermediate
Choreographer: Adia "Dance" Nuno (USA) Satu Ketellapper (Netherlands) (October 2022)
Music: Sounds Like something I'd Do by Drake Milligan
Learn!
⇒Stepsheet https://ucwdc.org/wp-content/uploads/2022/10/Sounds-Like-Something-Id-Do.pdf
⇒Walkthrough Videos
Compete!
Compete in this contest at the 2023 Country Dance World Championships!
Friday Evening Session in the UC Corral
Schedule: https://ucwdc.org/worlds-schedules/
Prizes!
First Place Male and Female: Custom belt buckle sponsored by Robert Royston's company bac1873.com
Second Place Male and Female: Beautiful Sidekick Wallets! An all-in-one solution for keeping your credit cards, ID, cash and keys safe and secure while traveling, hiking, shopping, dancing or any activity you enjoy! Clip it and go!