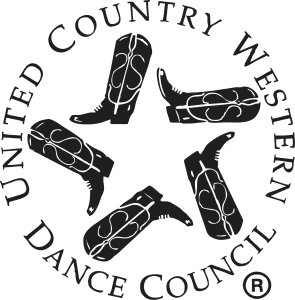 2022 UCWDC Points Championships Winners
Congratulations!!!
2022 UCWDC Points Championship points are earned for every dance completed by each contestant at every UCWDC event around the world during the 2022 dance season. Points are calculated by awarding five (5) points for each division/dance completed and then adding additional points for each 1st – 5th dance placement attained in each of those division/dances, e.g., First – 5 points, Second – 4, Third – 3, Fourth – 2, Fifth – 1.
*** Title will be awarded only if a minimum of 100 points was reached and only contestant with a UCWDC current year membership status will receive points.
Winners are announced in their session at Worlds. Points certificates are available for pick up at the Awards desk in the main ballroom lobby. Unclaimed certificates will be sent via US Postal Mail.
As a benefit of winning this championship, you have the opportunity to order and wear a beautiful, three-ribbon, handmade, genuine Montana Silversmith UCWDC Points Championship buckle. Order forms are available at Worlds and online. 
Overall Points Champions 2022

Ed Cagley Memorial Award
Top Male Am: Paul Grande ~ 5984 points
Top Male Pro: Charles Jones ~ 10745 points
Kelly Gellette Memorial Award
Top Female Am: Linda Neiswender ~ 2149 points
Top Female Pro: Vickie Rose ~ 11716 points
Overall winners received a 6 day pass to the 2024 Country Dance World Championships, scholarship or award money based on Am or Pro status, a custom trophy, award certificate, and the opportunity to order and wear a customized championship buckle.
Couples
| | | | |
| --- | --- | --- | --- |
| |   | Division | Points |
| ERIC NAVA | RACHEL MERCEDES | CLASSIC MASTERS | 576 |
| DANNY GUENTHER | CYNTHIA KINNETT | COUPLES SHOWCASE CROWN | 110 |
| GREGORY THRASH | LAURA THRASH | COUPLES CLASSIC CROWN | 336 |
| FRANK DAIRE | LINDA NEISWENDER | COUPLES GOLD II/I | 365 |
| STEVE FRANKS | AMY CROWDER | COUPLES OPEN IV | 371 |
| MARTIN CRABILL | SHARON CRABILL | COUPLES DIAMOND IV | 363 |
| WILLIAM NUSBAUM | RICHI NUSBAUM | COUPLES GOLD IV | 398 |
| MARTIN CRABILL | SHARON CRABILL | COUPLES SILVER IV | 378 |
| KENJI KUSUMOTO | LILY ZADAKIS | COUPLES YOUTH III | 150 |
| KEN HARDEN | MELISSA TAYLOR | COUPLES OPEN III | 405 |
| KEN HARDEN | MELISSA TAYLOR | COUPLES CRYSTAL III | 428 |
| KEN HARDEN | MELISSA TAYLOR | COUPLES DIAMOND III | 418 |
| JAKE MULLINS | SHEILA LANCELOTTA | COUPLES SILVER III | 391 |
| BILL SZEWC | BRENDA SZEWC | COUPLES GOLD III | 238 |
| HARRISON BERGGREN | KEELY BROWN | COUPLES OPEN II | 293 |
| JOHN MICHELSEN | SUE CHICK MICHELSEN | COUPLES CRYSTAL II | 327 |
| JOHN MICHELSEN | SUE CHICK MICHELSEN | COUPLES DIAMOND II | 394 |
| FRANK DAIRE | LINDA NEISWENDER | COUPLES SILVER II | 328 |
| JUSTIN KAISER | SARAH MOLLISON | COUPLES OPEN I | 614 |
| DENNIS WOODS | JENNIFER ALLEN EGL | COUPLES CRYSTAL I | 150 |
| MARK SCOLIERI | CHERYL WILLIAMS | COUPLES DIAMOND I | 185 |
| STAN WOJCIECHOWSKI | DONNA WYLIE | COUPLES SILVER I | 568 |
Line Dance
| | | |
| --- | --- | --- |
| | Division | Points |
| SAVANNAH SPENCER | LINE DANCE FEMALE OPEN NEWCOMER | 148 |
| DAVID WAUGH | LINE DANCE MALE OPEN NEWCOMER | 110 |
| EVA KAHN | LINE DANCE FEMALE OPEN NOVICE | 139 |
| JACOB SACCO | LINE DANCE MALE OPEN NOVICE | 194 |
| CHRISTINA LYON | LINE DANCE FEMALE CRYSTAL NOVICE | 120 |
| MARISA KNOWLE | LINE DANCE FEMALE DIAMOND NOVICE | 120 |
| MICHELLE LIMOLI | LINE DANCE FEMALE SILVER NOVICE | 149 |
| KAREN CAPRIA | LINE DANCE FEMALE GOLD NOVICE | 169 |
| AISLING VAUGHAN | LINE DANCE FEMALE TEEN INTERMEDIATE | 100 |
| BELLA MARTINO | LINE DANCE FEMALE OPEN INTERMEDIATE | 149 |
| | | |
| --- | --- | --- |
| NOAH CARSTEN | LINE DANCE MALE OPEN INTERMEDIATE | 119 |
| MICHAEL LINGER | LINE DANCE MALE CRYSTAL INTERMEDIATE | 100 |
| JENNIFER MARZOLF | LINE DANCE FEMALE DIAMOND INTERMEDIATE | 150 |
| MICHAEL LINGER | LINE DANCE MALE DIAMOND INTERMEDIATE | 100 |
| DAIVA LESICKIENE | LINE DANCE FEMALE SILVER INTERMEDIATE | 198 |
| MARION VLEUGELS | LINE DANCE FEMALE GOLD INTERMEDIATE | 146 |
| STEFFEN HOBE | LINE DANCE MALE GOLD INTERMEDIATE | 100 |
| CORA RILEY | LINE DANCE FEMALE TEEN ADVANCED | 240 |
| KEELY BROWN | LINE DANCE FEMALE OPEN ADVANCED | 233 |
| ANTHONY FERRARA‐SWAITHES | LINE DANCE MALE OPEN ADVANCED | 349 |
| SHARI AUGUSTINE | LINE DANCE FEMALE CRYSTAL ADVANCED | 160 |
| ANTHONY FERRARA‐SWAITHES | LINE DANCE MALE CRYSTAL ADVANCED | 250 |
| SHARI AUGUSTINE | LINE DANCE FEMALE DIAMOND ADVANCED | 160 |
| ANTHONY FERRARA‐SWAITHES | LINE DANCE MALE DIAMOND ADVANCED | 350 |
| SHARI AUGUSTINE | LINE DANCE FEMALE SILVER ADVANCED | 158 |
| ANTHONY FERRARA‐SWAITHES | LINE DANCE MALE SILVER ADVANCED | 350 |
| LAURA EHRAT | LINE DANCE SHOWCASE FEMALE OPEN | 217 |
| HARRISON BERGGREN | LINE DANCE SHOWCASE MALE OPEN | 180 |
| MARIA SIBILA | LINE DANCE SHOWCASE FEMALE DIAMOND | 145 |
ProAm & ProPro
| | | |
| --- | --- | --- |
| ProAm | Division | Points |
| MAGGIE CASANOVA | PROAM FEMALE OPEN SYLLABUS A | 237 |
| MICHELLE PARENICA | PROAM FEMALE OPEN SYLLABUS C | 138 |
| MICHELLE PARENICA | PROAM FEMALE OPEN SYLLABUS D | 210 |
| ANDREW BEHAN | PROAM MALE OPEN SYLLABUS D | 320 |
| MILANA HAM | PROAM FEMALE PRIMARY NEWCOMER | 360 |
| BRANTLEY QUINN | PROAM MALE PRIMARY NEWCOMER | 119 |
| HARPER PIELKA | PROAM FEMALE YOUTH NEWCOMER | 238 |
| BRIANNE TURNER | PROAM FEMALE TEEN NEWCOMER | 265 |
| AMY CROWDER | PROAM FEMALE OPEN NEWCOMER | 405 |
| THOMAS DEVEREUX | PROAM MALE OPEN NEWCOMER | 372 |
| JOAN FARRELL | PROAM FEMALE CRYSTAL NEWCOMER | 519 |
| DESTRY HEYLIN | PROAM MALE CRYSTAL NEWCOMER | 415 |
| JOAN FARRELL | PROAM FEMALE DIAMOND NEWCOMER | 523 |
| ROBERT SNITZER | PROAM MALE DIAMOND NEWCOMER | 764 |
| NANCY BENDER | PROAM FEMALE SILVER NEWCOMER | 309 |
| ROBERT SNITZER | PROAM MALE SILVER NEWCOMER | 729 |
| JOAN FARRELL | PROAM FEMALE GOLD NEWCOMER | 552 |
| MARTIN CRABILL | PROAM MALE GOLD NEWCOMER | 365 |
| CAROL HARRIS | PROAM FEMALE PLATINUM NEWCOMER | 231 |
| DENIS CLARK | PROAM MALE PLATINUM NEWCOMER | 358 |
| LILY ZADAKIS | PROAM FEMALE PRIMARY NOVICE | 150 |
| MILEY ROSADO | PROAM FEMALE YOUTH NOVICE | 140 |
| COLIN KERR | PROAM MALE YOUTH NOVICE | 160 |
| MAREN GIANNOTTI | PROAM FEMALE TEEN NOVICE | 240 |
| KARI CHRISTENSEN | PROAM FEMALE OPEN NOVICE | 425 |
| TROY SELDEN | PROAM MALE OPEN NOVICE | 541 |
| KARI CHRISTENSEN | PROAM FEMALE CRYSTAL NOVICE | 410 |
| DAVID CARPENTER | PROAM MALE CRYSTAL NOVICE | 201 |
| KARI CHRISTENSEN | PROAM FEMALE DIAMOND NOVICE | 402 |
| JASON BEWLEY | PROAM MALE DIAMOND NOVICE | 372 |
| | | |
| --- | --- | --- |
| KARI CHRISTENSEN | PROAM FEMALE SILVER NOVICE | 400 |
| TROY SELDEN | PROAM MALE SILVER NOVICE | 529 |
| JAN GEYER | PROAM FEMALE GOLD NOVICE | 368 |
| MIKE NICKELL | PROAM MALE GOLD NOVICE | 481 |
| KATHY OWENS | PROAM FEMALE PLATINUM NOVICE | 353 |
| ROBERT WILLIAMS | PROAM MALE PLATINUM NOVICE | 319 |
| CORA RILEY | PROAM FEMALE TEEN INTERMEDIATE | 560 |
| MARSHAL BEANE | PROAM MALE TEEN INTERMEDIATE | 160 |
| LINDSAY ZADAKIS | PROAM FEMALE OPEN INTERMEDIATE | 272 |
| KEN HARDEN | PROAM MALE OPEN INTERMEDIATE | 511 |
| CAROL ROEDER | PROAM FEMALE CRYSTAL INTERMEDIATE | 417 |
| KEN HARDEN | PROAM MALE CRYSTAL INTERMEDIATE | 651 |
| CAROL ROEDER | PROAM FEMALE DIAMOND INTERMEDIATE | 477 |
| KEN HARDEN | PROAM MALE DIAMOND INTERMEDIATE | 571 |
| LINDA WEISHAHN | PROAM FEMALE SILVER INTERMEDIATE | 633 |
| KEN HARDEN | PROAM MALE SILVER INTERMEDIATE | 662 |
| LINDA WEISHAHN | PROAM FEMALE GOLD INTERMEDIATE | 666 |
| KEN HARDEN | PROAM MALE GOLD INTERMEDIATE | 684 |
| MERRY KELLER | PROAM FEMALE PLATINUM INT/ADV | 398 |
| MURRAY MCINNIS | PROAM MALE PLATINUM INT/ADV | 382 |
| ABBI ZEIGLER | PROAM FEMALE OPEN ADVANCED | 150 |
| PAUL GRANDE | PROAM MALE OPEN ADVANCED | 787 |
| LINDA NEISWENDER | PROAM FEMALE CRYSTAL ADVANCED | 377 |
| PAUL GRANDE | PROAM MALE CRYSTAL ADVANCED | 928 |
| LINDA NEISWENDER | PROAM FEMALE DIAMOND ADVANCED | 359 |
| PAUL GRANDE | PROAM MALE DIAMOND ADVANCED | 1059 |
| LINDA NEISWENDER | PROAM FEMALE SILVER ADVANCED | 326 |
| PAUL GRANDE | PROAM MALE SILVER ADVANCED | 882 |
| DONNA WYLIE | PROAM FEMALE GOLD ADVANCED | 382 |
| PAUL GRANDE | PROAM MALE GOLD ADVANCED | 880 |
| PAYTON STEHLE | PROAM SHOWCASE FEMALE OPEN | 267 |
| PAUL GRANDE | PROAM SHOWCASE MALE OPEN | 551 |
| LISA MONTANIO | PROAM SHOWCASE FEMALE DIAMOND | 139 |
| PAUL GRANDE | PROAM SHOWCASE MALE DIAMOND | 810 |
| ELIZABETH WILSON | PROPRO FEMALE OPEN I | 238 |
| FELIPA MENDEZ | PROPRO FEMALE OPEN II | 291 |
| ERROL THREEWITS | PROPRO MALE OPEN I | 289 |
| ANTHONY FERRARA‐SWAITHES | PROPRO MALE OPEN II | 517 |
| AIMEE ALLEN | PROPRO FEMALE DIAMOND I | 317 |
| TONYA LIED‐PEELE | PROPRO FEMALE DIAMOND II | 149 |
| EDWARD MARSH | PROPRO MALE DIAMOND I | 375 |
| ANTHONY FERRARA‐SWAITHES | PROPRO MALE DIAMOND II | 532 |
| LORI HAYNER | PROPRO SHOWCASE FEMALE DIAMOND | 100 |