For three days in July 2019, UCWDC® in partnership with China Line Dance Promotion Centre organized a Dance Camp in Hangzhou, south of Shanghai.
After the success of the first UCWDC competition event in November 2018, and in preparation of the upcoming second "China Open International Line Dance Competition" scheduled for November 11, 2019; the local team wanted to train their teachers and coaches on UCWDC fundamentals and Country Dance technique.
Keith Armbruster – our President and Clive Eaton-Stevens – our Line Dance Committee Chairman; both Examiners on the Judge Certification Program went to China for a special Dance Camp.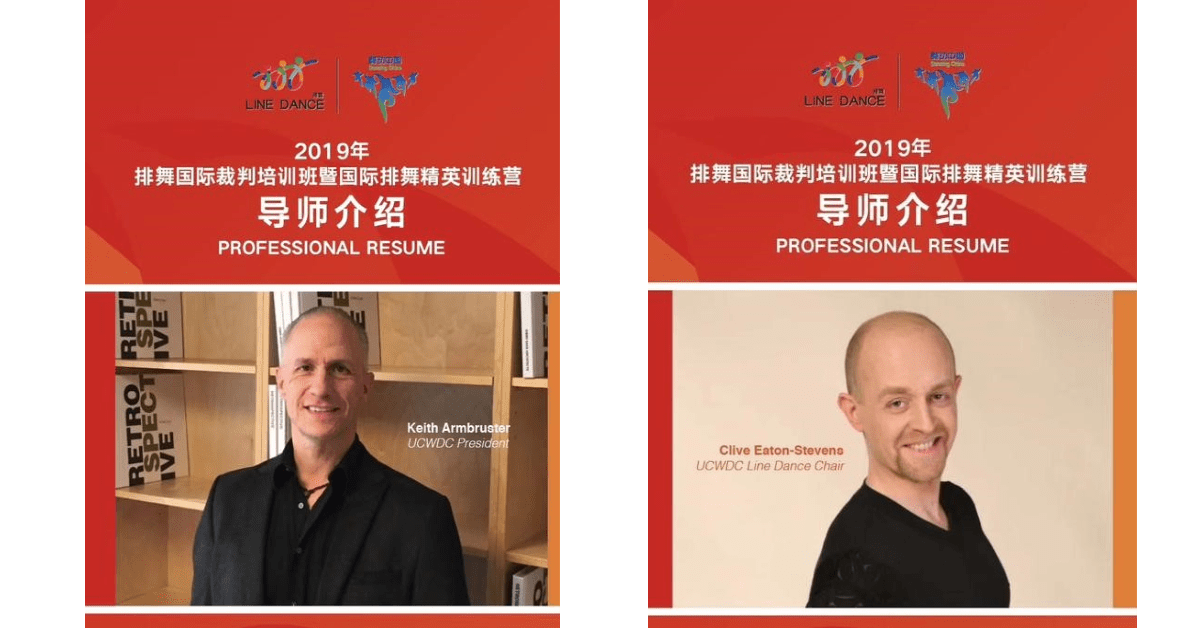 As for all international meeting, language was an important factor to be taken into account while delivering the program. Luckily, thanks to couple of bi lingual trainees all went very well.
"We were pleasantly surprising to talk about emotions triggered by musical style in a different culture, sometimes we got unexpected answers!" said Keith Armbruster after reviewing the different character of our dance style.
China is the largest country in the world regarding its population; line dancing is relatively new and confident but spreading very quickly via school programs and across a large network of local, province and national competitions. In order to develop even quicker and especially to bring more technical knowledge and standards, the China Line Dance organization has decided to partner with UCWDC to train and develop its members and to prepare their elite group to became UCWDC Certified Judges. "Each trainee has a different background, from ballet knowledge to hip-hop; so it was important to spend time on the basics of each of our Line  Dance types and focus on what makes them different from other forms of dance" noted Clive Eaton-Stevens at the end of the Introduction to Line Class.
The program included four main parts:
An "Introduction to Line Dance", where trainers presented the basics of each type of line dances;
A deep dive into the "Entrance Line Judge Certification Program Knowledge"; which covers the concepts and definitions of Timing, Rhythm, Motion, Character as well as Pattern and Spatial Structure;
A discovery of the "Fundamental 'A' Knowledge"; which covers Footwork and Movement, Turning Technique and Posture and Frame;
And finally, a dedicated session on "Judging Processes" including UCWDC scoring methodology, Grading and Expectation by level, and Ethics & Code of Conduct.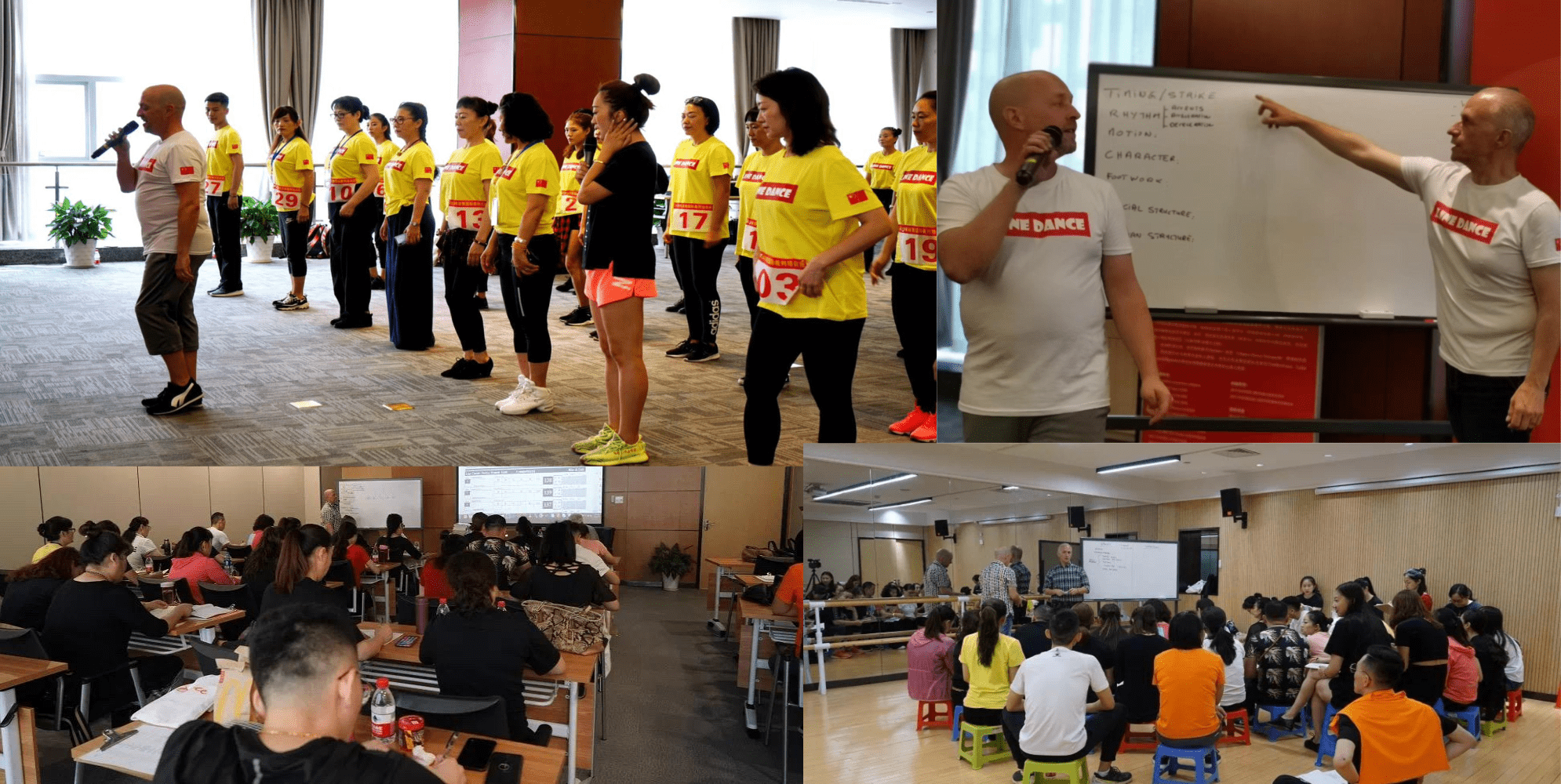 The training was really well received by the trainees who were impressed by the professionalism and richness of the training. "We really appreciated the time and the knowledge provided by the two trainers send by UCWDC in China, we hope this is the first step to build a strong China Line Dance community within the UCWDC family. We are ready working hard for the next training camp after the UCWDC China Open International Line Dance Competition, in November." concluded Shan Ying the leader of the China Line Dance organization at the end of the closing ceremony.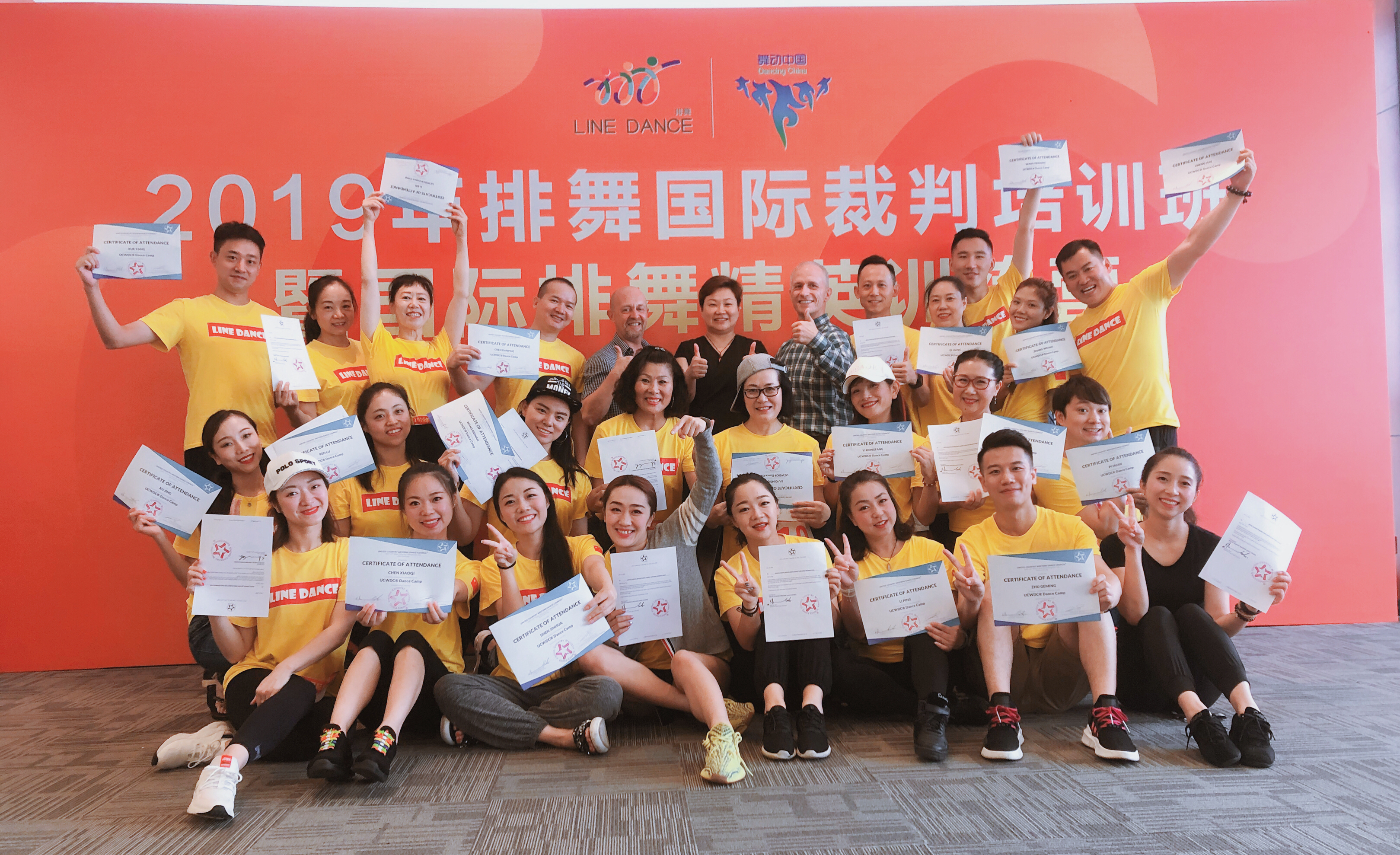 For more information on the UCWDC Judge Certification program, please contact
Kathy St. Jean, VP of Judge Certification – judgecertification@ucwdc.org
https://ucwdc.org/judge-certification/
For more information on China Open International Line Dance Competition please contact Cassie Wang – wangwei@hzyoujia.com