UCWDC POINTS CHAMPIONSHIP
The Points Championship winner for every UCWDC divisions will be eligible to purchase, wear and/or display a genuine Montana Silversmiths, Sterling Silver, Oval "UCWDC (CCYY) POINTS CHAMPION" buckle engraved with their title name which may be ordered right at Worlds.
UCWDC Points Championship points are earned for every dance completed by each contestant at every UCWDC event around the world during the dance season (January 15th – December 25th). Points are calculated by awarding five (5) points for each division/dance completed and then adding additional points for each 1st – 5th dance placement attained in each of those division/dances, e.g., First – 5 points, Second – 4, Third – 3, Fourth – 2, Fifth – 1.
*** Title will be awarded only if a minimum of 100 points was reached and only contestant with a UCWDC current year membership status will receive points.
POINTS CHAMPIONSHIP – Leaderboard effective 9/9/2022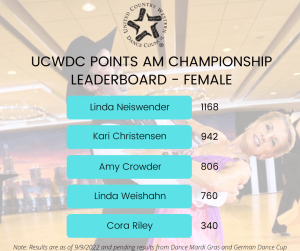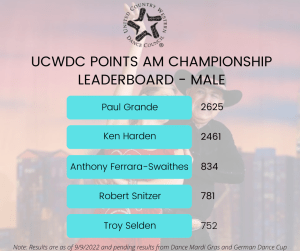 Thank you for your patience as we evaluate the Points Championships data collection! We will update this blog as the 2022 Dance Year progresses.